Eden Roc's Guide to Roller Garage Doors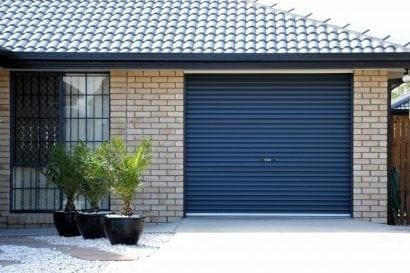 Both practical and well-designed, roller garage doors are easy to use and robust. In fact, based on their low-maintenance design, this style is not only used for residential garages but is also particularly common for large outdoor sheds, as well as for commercial use.
Why Roller Garage Doors Are Popular
With their compact design, roller garage doors will fit most garage openings. Rolling up vertically into a drum, this design removes the need for any runners across the garage's ceiling. That is why roller doors are an attractive option when ceilings are low.
Roller garage doors are incredibly easy to use, with or without a motor. With that being said, those who rely on a motor can easily have their door serviced by Eden Roc, ensuring optimal operation and safety. This is especially important for commercial roller doors.
While focusing on style options, many believe that unlike sectional garage doors, roller garage doors are slightly limited in terms of design. However, this style of door is incredibly smart-looking, cost-effective and sleek — which is why it is such a popular option.
Although roller doors do not technically vary much in design (due to their rolling mechanism), they are available in a wide range of colours. From "Cottage Green" to "Shale Grey," there are over 20 options to choose from, allowing consumers to select a colour based on the colour palette of their building.
Consumers can also choose from custom-made cedar doors, insulated doors, aluminium doors and more. This is why it is important to work with a trusted, experienced company, as they will be able to offer the perfect door fit in terms of materials, style and budget.
When it comes to the material used, Colorbond roller doors are very common in Australia, as they are not only high in quality but also ideal for Australian climate conditions. In fact, this weather-tested, low-maintenance material is used in 99 percent of WA garage doors.
Overall, roller garage doors are durable, dependable, easy to use and cost-effective.
Perfect for Both Residential and Commercial Use
Manufactured in Australia, Colorbond roller garage doors are perfect for both residential and commercial use.
In terms of size, roller garage doors fit all standard openings. When commercial doors are under 5 metres wide and 5 metres high, roller garage doors are also the preferred choice.
In fact, in a commercial context, roller doors are the norm. The same is true for outdoor sheds. When larger doors are required, roller shutters are also an option. This is something that can be discussed based on the space and intended use.
Although most commonly used for commercial purposes, since they are simple and easy to use (both with a motor and manually), roller garage doors are also found in a residential context. These garage doors are incredibly secure, and residents have options in terms of the overall aesthetic, size and design.
Where to Get Roller Garage Doors in WA
When looking for a quality roller door for a residential or commercial garage, it is important to consider the supplier. At Eden Roc, consumers can access designs from Metroll, Centurion, B&D and Steeline (manufactured in WA). In addition to being able to purchase a brand new garage door, customers who already have a garage door installed can have it serviced to maintain the door's function and longevity.
Whether a home or business owner is interested in optimal design or function, roller garage doors tick all the boxes. Best of all, they offer great value for money.