Stunning "Wooden" Doors - Without the Wood Door Price
Fill below form to quick quote
Our Timberlook garage doors, made here in Perth, offer a woodgrain finish to give an accurate look of authenticity without the price tag and maintenance issues associated with a real timber door.
WHAT ARE TIMBER-LOOK GARAGE DOORS?
Timber-look garage doors are a sub-type of sectional garage door which have been painted to give it the appearance of being wood. Despite their appearance, timber-look doors are made from Colorbond steel. Timberlook doors are the 'best of both worlds' with the beautiful aesthetic of wooden doors without carrying the price-tag and maintenance of 'true timber doors'.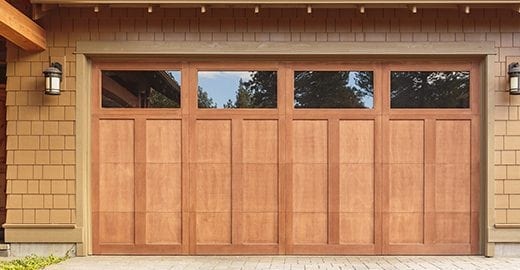 TIMBER-LOOK GARAGE DOORS VS 'REAL' TIMBER GARAGE DOORS
In our experience, when trying to decide between timber-look garage doors or true timber doors, we have found timber-look garage doors to be the outright better choice in almost every context.

Timber-look garage doors are better from a price, maintenance, and a strength perspective.

When purchasing a garage door, you will find that a Timber-look door will be 30%-40% cheaper than a true timber garage door. True Timber doors will also require servicing every year, while timber-look doors will only require it once every 2 years. The true timber will also deteriorate over time as a result of constant exposure to the elements – this is especially severe given the climate we have here in Perth. True timber doors, after a number of months, will appear almost sunburnt and may require sanding and the re-coating of oil and varnish. Additionally, timber-look doors are made of steel. This steel is much stronger than the wood from which timber doors are made.

As such, timber-look garage doors are a cheaper, and stronger door, requiring less maintenance. They are also so visually similar to the real thing that the average person will not be able to discern tell the difference simply by looking at them.
At Eden Roc Garage doors we have the widest range of Timber-look garage door styles and colours available in Perth. In addition to BlueScope's Classic Cedar and Caoba colours with a maintenance-free finish that resists fading, we also offer a range of painted Timber-look doors to offer a more authentic and natural appearance. All Timber-look doors are extremely hardwearing and will look good for years to come.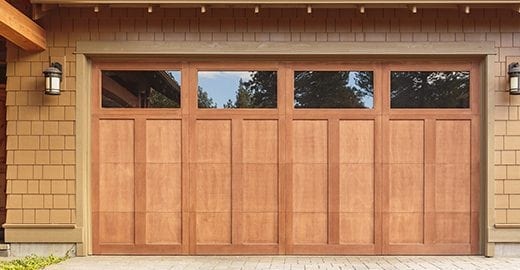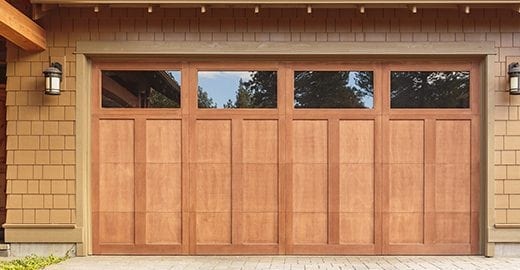 TIMBER-LOOK GARAGE DOOR STYLES AND COLOURS
Caoba Colorbond®
Classic Cedar Colorbond®
Timber-look garage doors are available in a large range of styles and finishes. We also offer an insulated Timber-look garage door with excellent heat and sound insulation properties and clean lines to enhance the appearance of your home.
WHY CHOOSE A TIMBER-LOOK GARAGE DOOR?
Timber-look garage doors are an ideal choice for those who are wanting the 'wooden' aesthetic without having the associated price tag and increased maintenance that comes with having a wooden garage door.​
TIMBER-LOOK GARAGE DOOR COST
A typical timber-look garage door for a residential home will cost between $2,500 and $4,000 depending upon the size of your door and the colour finish you choose.
TIMBER-LOOK GARAGE DOOR DIMENSIONS
Timber-look garage doors dimensions are in line with sectional garage door dimensions; typically ranging from 1.5m – 3m in height, and 2.5m – 5.0m in width. If you require a garage door whose dimensions sit outside these ranges, you can explore custom garage doors as a way of achieving the same timber aesthetic, but customising the door to perfectly suit your requirements.
TIMBER-LOOK GARAGE DOOR INSTALLATION
The installation of a timber-look garage door is exactly the same as the installation of a sectional garage door. It will involve the take-down of any previous door that might be there, the fitting of the fixings which hold the tracks, spring and motor in the correct position. Then setting up both the garage door and the appropriate motor, installing a wall button, and pairing any remotes to the motor.
The entire process of installation will generally take between 3 – 4 hours.
TIMBER-LOOK GARAGE DOOR REPAIR AND MAINTENANCE
Timber-look garage doors will require their first service roughly 12 months following their installation. Every subsequent service should occur every 2 years thereafter.
Regularly servicing your door will keep it in the best possible state and ensure that small issues do not escalate and require costly repairs down the line. It will additionally maximise the lifespan of your garage door which can last up to 20 years with bi-yearly servicing.
TIMBER-LOOK GARAGE DOOR INSULATION
Timber-look doors can be insulated!
Though, this does not apply to every available timber-look colour. There are two main insulated timber-look door colours: Golden Oak, and Dark Oak – our Insuwood Colours
Check out these colours on our visualiser!
TIMBER-LOOK GARAGE DOOR MOTORS
Timber-look garage doors function exactly as sectional garage doors do and require the same type of motor. Any motor that is suitable for a sectional garage door will be suitable for a timber-look door on the condition the power of the motor is paired to the weight of the door.
We consider the best timber-look garage door motor range on the market at the moment to be the Merlin Commander. There are a number of different motors, increasing in power to pair with increasingly heavier doors.
TIMBER-LOOK GARAGE DOOR MANUFACTURERS
There are 4 main manufacturers of timber-look garage doors:
Centurion,
Steeline,
Danmar, and
B&D
The timber-look colours each manufacturer offers vary slightly. The manufacturer of the garage door should not be a factor in determining which timber-look garage door to choose as they all manufacture high-quality timber-look garage doors. The price and design of the door should be the only 2 factors considered.
TIMBER-LOOK GARAGE DOOR PARTS
Visit our showroom for all the latest technology available for your garage door and motor. A large range of replacement parts and consumables are available at our spare parts counter.​
WHAT OTHER OPTIONS ARE AVAILABLE?
True timber doors are an option for those who are wanting the 'real thing'. These doors do require more maintenance, are not as strong, and suffer more from the effects of weather when compared to timber-look garage doors, but if you are set on a true timber garage door. They are an option to consider.
Sectional garage doors are identical to timber-look garage doors, with the exception of the door's colour. Sectional garage doors do not offer the wood-like appearance and are coloured in more 'standard' Colorbond Colours.
Timberlook garage doors can also be insulated, as such, insulated garage doors are not its own stand-alone category but rather you can have a combination of the timber-look appearance and the insulation. Unfortunately, you are restricted a bit more in the door's appearance as not as many timber colour options are available to you if your door is insulated.
Custom garage doors are the most 'luxury' door styles, with a sleek aesthetic. These are great doors for modern homes whose aesthetic is composed of lots of glass and metal. If your home is very modern. Custom garage doors are likely a more appropriate choice to match your home's aesthetic.